After months of work we are delighted to announce that the Salesforce Associate Certification Course and Mock Exams are now live and we're incredibly proud with the result!

When we started designing and planning the course and mock exams we had a few things in mind that we wanted to achieve, and these were driven by one key goal;

To provide you with the most clear, concise, and comprehensive learning experience that not only helps you become a Salesforce Certified Associate, but one that lays the foundations for your journey to becoming a Salesforce Certified Administrator and building your career in the Ecosystem.
To achieve that goal we focus on a three pronged approach to provide you with the most efficient and effective learning experience;
High quality clear and engaging video lessons
Quick-to-reference and easy-to-use Cheatsheets
Realistic mock exams with in depth explanations
So let's take a closer look at them one by one so you can see what we have on offer.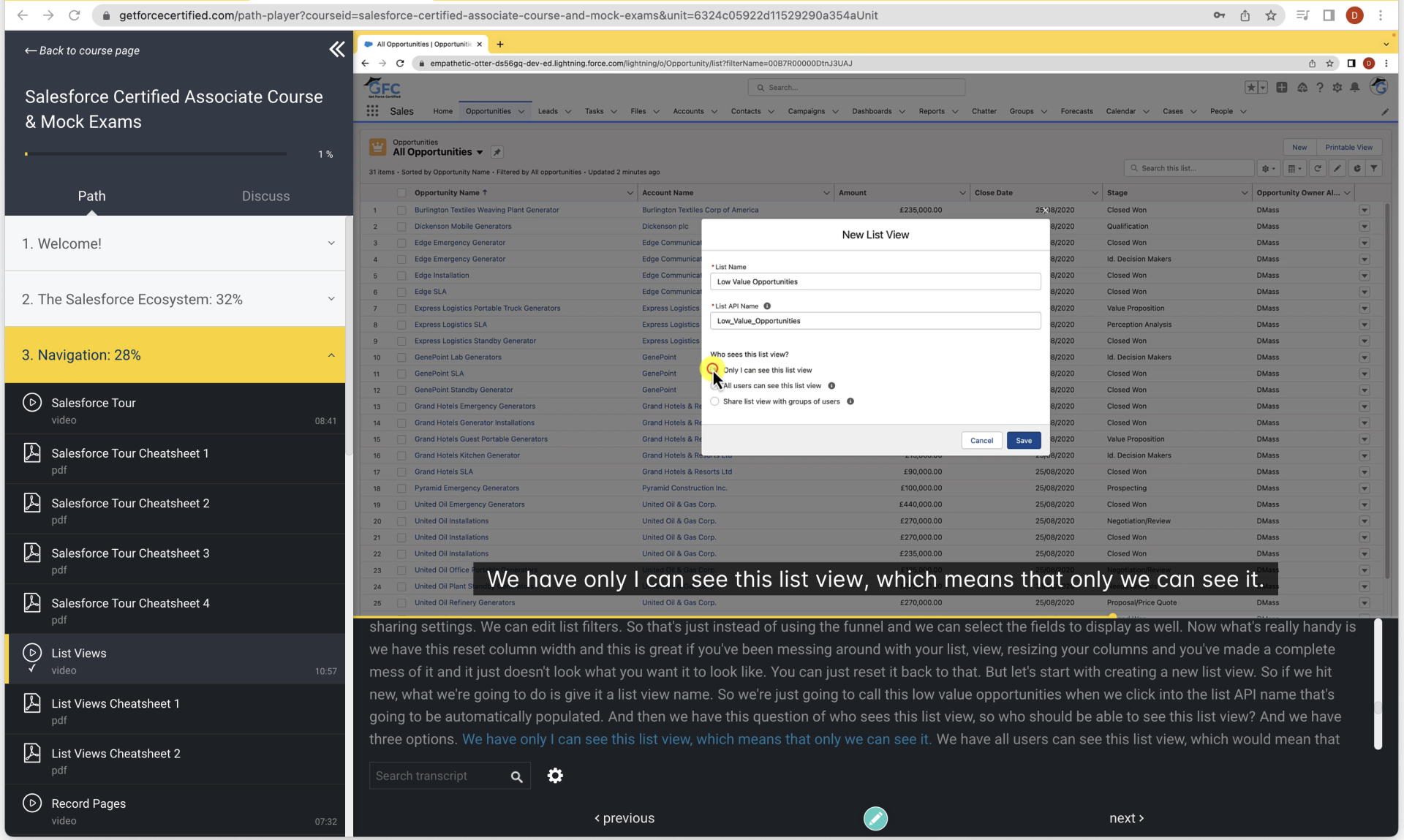 High Quality Clear, Concise, and Comprehensive Video Lessons - The ideal way to study for your Salesforce Certification Exam

We know how effective video lessons are for learning and we wanted to utilize this method as our main way of teaching. As such we spent a lot of time scripting, recording, and editing the video lessons to provide you with clear, concise, and comprehensive lessons to maximize your learning.

All of our lessons include transcripts and captions for the times when you want to study but need to do so quietly, these can be toggled on and off when needed. We have highlighted our cursor and have included a click rings so you can see exactly where and what we are clicking. And to make sure that you can learn at your own pace you can easily speed up or slow down playback, we understand you may want to review the videos quickly so we've ensured that you can do that. We've even included quality control so you can still watch the videos even if you are in a poor signal area, and for the most immersive learning experience you can make the video full screen.

We believe that our video lessons are the best in class and provide you with an engaging, highly effective learning experience that you can build a long with in your own Salesforce Playground or Developer Edition.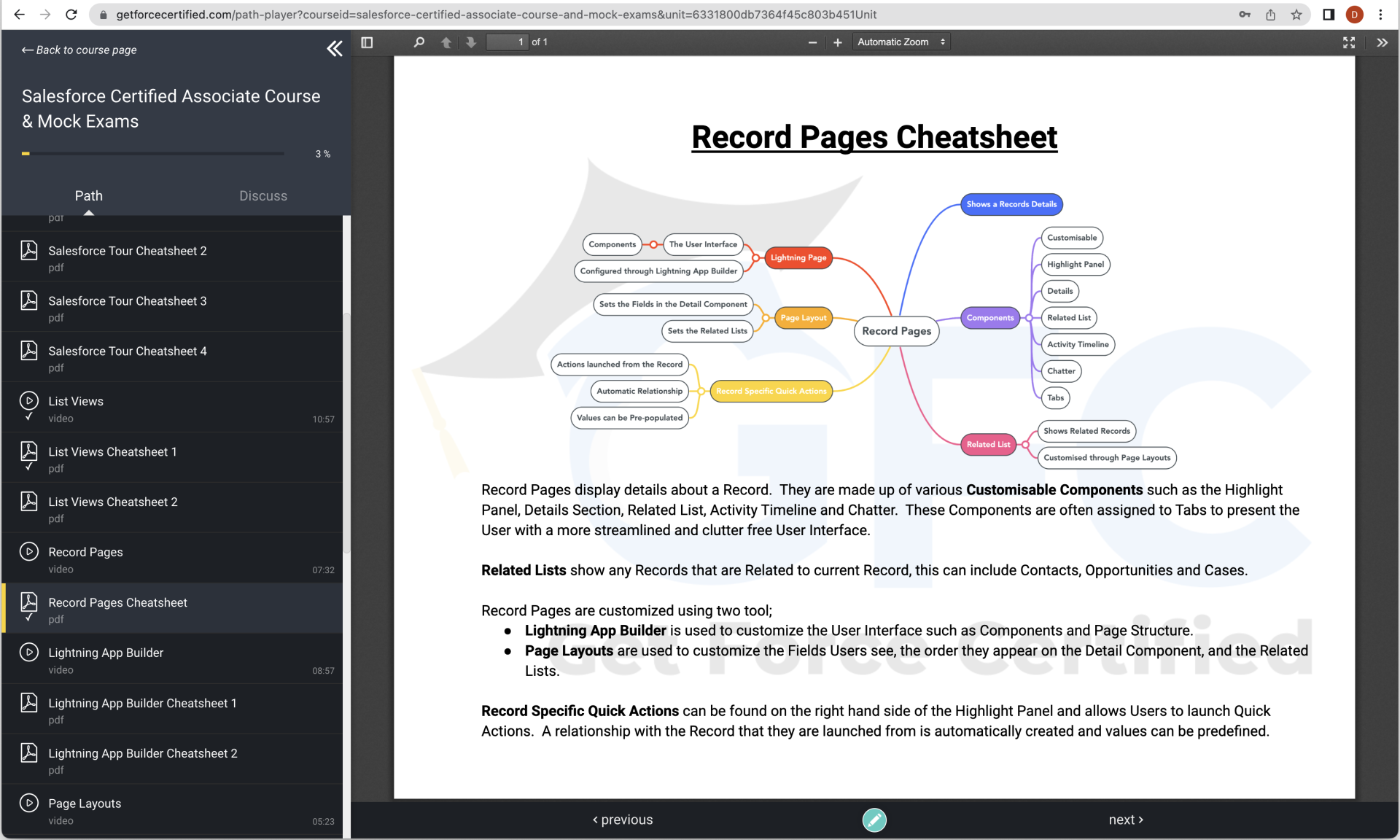 Quick-to-Use, Easy-to-Reference Cheatsheets - The perfect way to revise for your Salesforce Certification Exam

While video lessons are highly effective, so are written notes, especially when they are in the form of cheatsheets. A quick-to-use, easy-to-reference document that is perfect for recapping a topic of concept when you don't have time to watch the video. They are incredibly effective when it comes to revision too! What makes our cheatsheets different from others is that they provide an engaging, eye-catching overview of the concept or topic before diving into more detail.

We created these as Cheatsheets are vital when it comes to revision, they provide you with a quick and easy way to refresh your memory about a concept or topic. This is particularly useful to use just before your Salesforce Associate Certification Exam to refresh your memory of any particularly hard to remember points.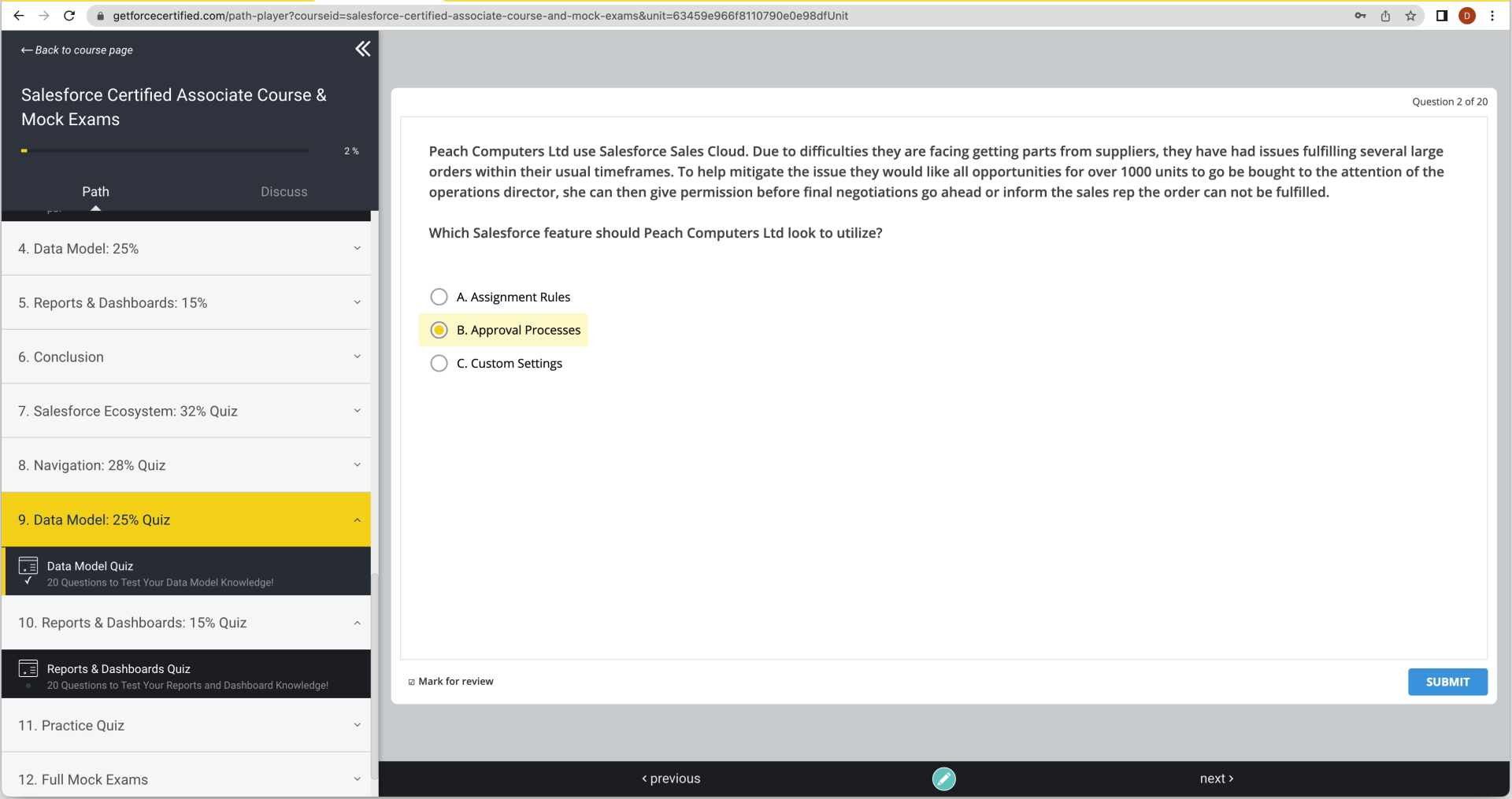 Realistic Mock Exams with Detailed Explanations - The perfect preparation for your Salesforce Certification Exam
Studying the material is one thing, but sitting and passing the actual Salesforce Certification Exam is something completely different and we wanted to provide you with the most
realistic
,
in-depth
experience to truly prepare you for your exam day.
Our exams really test your knowledge, we've intentionally written the questions as you can expect to find them on the exam. We know that Salesforce phrases questions in a unique way and we've replicated that with some of the questions, that way you are prepared for what's to come. We've also included a wide range of
styles of questions
to provide you with a more engaging and enjoyable experience, the variety of question formats helps you with your revision and helps deepen your understanding.

Every question has a detailed explanation, not just of the correct answer but of the wrong answer so you can understand why the correct answer is the correct answer and the wrong answers are the wrong answers.

For the true Mock Experience we offer a timed exam with question feedback only at the end, we provide you with a breakdown of each section and list of the questions you encountered and if you got the answer correct, or incorrect.
Everything You Need to Achieve Your Next Salesforce Certification

We designed, crafted, and refined our Courses to provide you with the most comprehensive learning experience for Salesforce. With a mixture of clear and concise video lessons, quick and easy to use cheatsheets, and realistic, in depth mock exams with detailed explanations we have everything you need to achieve your next Salesforce certification.

Thanks for reading,

Dave
Subscribe to our newsletter now!
Get weekly updates on live streams, news and more right in your mailbox.